From Longman Dictionary of Contemporary English
cicada
ci‧ca‧da
/
səˈkɑːdə
$

səˈkeɪdə, -ˈkɑː-
/
noun
[

countable

]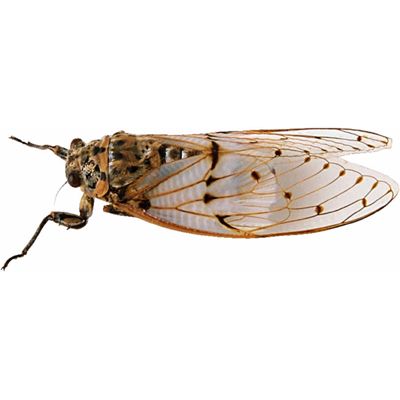 HBI
an insect that lives in hot countries, has large transparent wings, and makes a high singing noise
cicada
•

Hear the birds and

cicadas

, listen for the gentle breeze rustling the leaves.
•

Outside there were evening

cicadas

, and the sounds of children in the street.
•

Several days ago I also heard one

cicada

, but none since.
•

The larvae of the

cicadas

that sit shrilling on trees spend their lives below ground sucking sap from roots.
•

There were

cicadas

in the mimosa and gulls crying on the wing.
•

The varieties are known, respectively, as 13-year

cicadas

and 17 year cicadas.
•

It turns out that there is not just one 13-year

cicada

species and one 17-year species.
Origin
cicada
(

1400-1500

)
Latin