From Longman Dictionary of Contemporary English
butcher
butch‧er
1
/
ˈbʊtʃə
$

-ər
/
●●○
S3
noun
1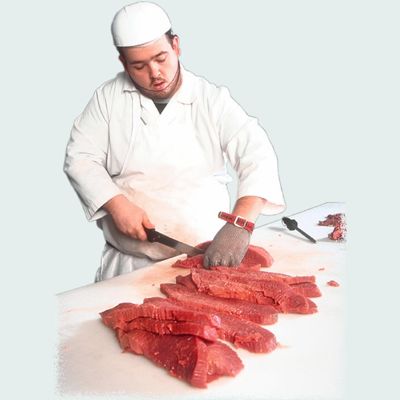 BO
DF
[

countable

]
someone who owns or works in a shop that sells meat
2
→
the butcher's
3
KILL
[

countable

]
someone who has killed someone else cruelly and unnecessarily, especially someone who has killed a lot of people
4
→
have/take a butcher's
butcher
•

He had been hired by a

butcher

in the Shambles.
•

Also patron of artists,

butchers

, glassworkers, notaries, painters, and surgeons.
•

And in

Butcher

Row there were 29 butchers, including a Master Butcher who features in the books.
•

He had a couple of hundred dollars on top of the dashboard, folded in

butcher

wrap stained with lamb-chop blood.
•

Many small independent

butchers

are closing down.
•

Therefore, we recommend having the

butcher

debone them whenever possible.
•

The

butcher

, the baker, the candlestick maker.
butcher
butcher
2
verb
[

transitive

]
1
DF
TA
to kill animals and prepare them to be used as meat
2
KILL
to kill someone cruelly or unnecessarily, especially to kill a lot of people
3
informal
SPOIL
to spoil something by working carelessly
That hairdresser really butchered my hair!
→ See

Verb table
butcher
•

Catholics, he preached, trained blind and furious zealots to

butcher

and scalp Protestants.
•

They decided Mr Newall was

butchered

downstairs and his wife in her bedroom.
•

The scent of dense green growth, irrigation mist, massive trees not

butchered

for their fodder, fattened, passive cattle.
•

Memories of the 1983 riots, when thousands of Tamils were

butchered

in Colombo, are lively.
•

Loi

butchered

it eagerly, first cutting off inch-thick steaks which we fried in soy sauce and oil and were delicious.
•

Each of his predecessors has been assassinated /

butchered

/ knifed by one or more among those gathered in front of him.
•

And who did

butcher

those women?
Origin
butcher
1
(

1200-1300

)

Old French

bouchier

, from

bouc

"

male goat

"