From Longman Dictionary of Contemporary English
bun
bun
/
bʌn
/
noun
[

countable

]
1
British English
DF
a small round sweet cake
a sticky bun
2
DF
a small round type of bread
a hamburger bun
3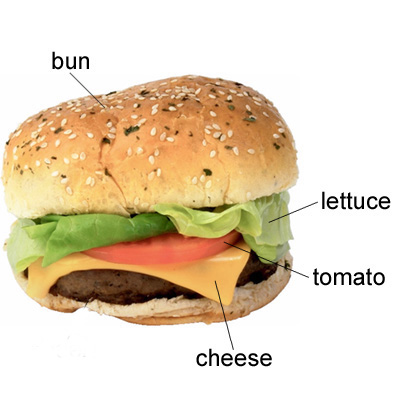 DCB
if a woman has her hair in a bun, she fastens it in a small round shape at the back of her head
4
→
buns
5
→
have a bun in the oven
bun
•

This species looks rather like a

bun

, but not highly convex, and with a five-sided outline.
•

Spoon into the choux

buns

and sprinkle with paprika.
•

She so obviously hadn't given up stuffing herself with Salmon's cream

buns

.
•

Gao Yang counted seven old fingers buried in the steamed

bun

, which had long since given up its original shape.
•

The blanched nape of a neck, spiders of hair breaking free of the

bun

, twirling on the surface.
•

While the

buns

were cooking members were divided into teams.
Origin
bun
1.

(

1300-1400

)

Perhaps from

Old French

bugne

"

swelling (caused by a blow), type of fritter

"
2.

(

1800-1900

)

Perhaps from

Scottish Gaelic

bun

;

→

BUNNY