From Longman Dictionary of Contemporary English
blackberry
black‧ber‧ry
/
ˈblækb

ə

ri
$

-beri
/
noun
(
plural

blackberries
)
[

countable

]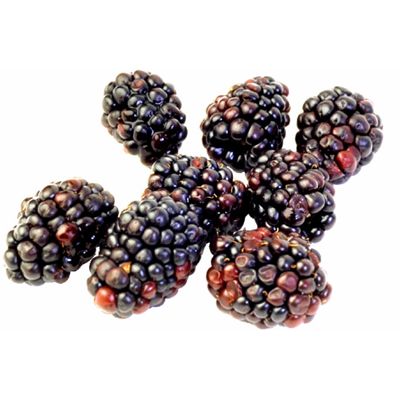 DF
HBP
a small black or purple berry from a bush that has thorns (=sharp points)
blackberry
•

The thicket still contained remnants of the raspberry and

blackberry

patches that always come in right after a clearcut.
•

Their ideas could be expropriated as freely and easily as

blackberries

from a hedge in summer.
•

Cultivated

blackberries

are not far removed from their wild parents and do not need much fussy soil preparation.
•

Lot 16, perhaps the best of the series, has intense

blackberry

flavors with touches of blueberry, coffee and chocolate.
•

This full-bodied, supple red wine offers lovely

blackberry

and black raspberry fruit and hints of chocolate and herbs.
•

Make sure that all canes of raspberries,

blackberries

and other fruits are tied in securely to prevent breakage and chafing.
•

This supple shiraz offers ripe

blackberry

, chocolate and herb flavors with purity and intensity.
•

There used to be such wonderful

blackberries

!
BlackBerry
Black‧Ber‧ry
/
ˈblækberi
/
noun
[

countable

]
trademark
a piece of wireless (=using electronic signals not wires) electronic equipment that you can hold in your hand. You can use it as a PDA (=small computer that you use to store information such as telephone numbers, addresses, and appointments), as a mobile phone, to send and receive emails and text messages, and to look at the Internet.