From Longman Dictionary of Contemporary English
bikini
bi‧ki‧ni
/
bəˈkiːni
/
●●○
noun
[

countable

]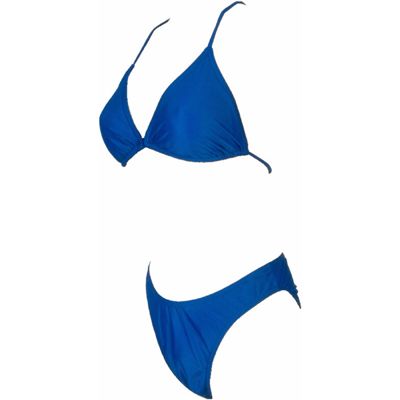 DCC
DSS
a set of clothes worn by women for swimming, which consists of a top part covering the breasts, and a bottom part
bikini
•

But he was wearing a

bikini

, a pink bikini with big black spots all over it.
•

Not once, even in the most remote spots and island hideaways, has Diana forgotten to put on her

bikini

top.
•

A skinny blond in a blue-and-white-striped

bikini

sprayed himself with water from a plastic plant-mister.
•

Paul just knows it ... Claire tries on the

bikini

instead.
•

It is her first one not published in January, and the first to deal specifically with the

bikini

in mind.
•

Busty women in tiny

bikinis

passed out fliers for this show or that one.
Origin
bikini
(

1900-2000

)

French

Bikini

Atoll, after a nuclear bomb test was held there in 1946