From Longman Dictionary of Contemporary English
axe
axe
1
(
also
ax
American English
)
/
æks
/
●●○
noun
[

countable

]
1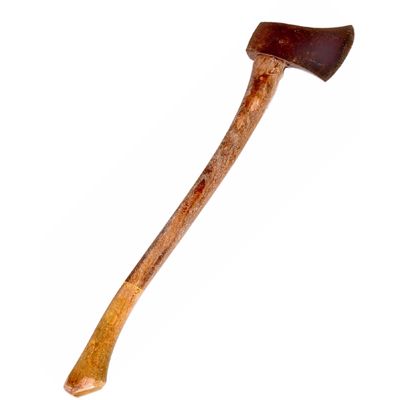 TZ
a tool with a heavy metal blade on the end of a long handle, used to cut down trees or split pieces of wood
→
pickaxe
2
→
the axe
3
→
the axe
4
→
have an axe to grind
axe
•

Her brother Arijs was an

axe

murderer.
•

Attractive young women fanned him as he simultaneously read, wrote, waved an

axe

and held a flower aloft.
•

In Crete, we also find the double

axe

engraved on stalactite columns in caves.
•

Suppose now that we wish to search the database for

axes

similar in shape to some given axe.
•

The strong hand of Skeggi, still half-laid on his

axe

.
•

A dozen men and women clad in furs were polishing

axes

and broadswords monotonously, mindlessly.
•

When they returned each carried a handful of small

axes

.
axe
axe
2
(
also
ax
American English
)
verb
[

transitive

]
1
LEAVE A JOB OR ORGANIZATION
to suddenly dismiss someone from their job
There are plans to axe 2,600 staff.
2
GET RID OF
to get rid of a plan, system, or service, especially in order to save money
TV's longest running show is to be axed.
→ See

Verb table
axe
•

Boro striker Bernie Slaven looked angry before the kick-off after he was

axed

.
•

More than 9,000 staff have been

axed

and about another 11,000 have departed in businesses sold off.
•

And there was almost a mass brawl 10 minutes before the break after Mark Robson was

axed

by Gianfranco Parlato.
•

Now his firm has been

axed

from school duties in Swansea and faces prosecution.
•

But

axing

Julia won't save the revamped News At Ten.
•

Ironically, he was

axed

less than three weeks before Boro's first Wembley appearance.
From Longman Business Dictionary
axe
axe
1
/
æks
/
(
also
ax
American English
)
verb
[

transitive

]
informal
1
JOB
if a company axes jobs, it suddenly dismisses people in those jobs in order to reduce costs
The company announced plans to axe 300 jobs.
2
to suddenly get rid of a plan or service, or reduce the amount of money spent on it
The airline's transatlantic service is to be axed next month.
→ See

Verb table
axe
axe
2
(
also
ax
American English
)
noun
JOB
1
get/be given the axe
if someone gets the axe or is given the axe, they are suddenly dismissed from their job because the company wants to reduce costs. If a plan, project, or service gets the axe, it is stopped in order to reduce costs
A lot of managers are now getting the axe.
2
the axe falls
if the axe falls, someone is dismissed from their job or a plan, project, or service is stopped because a company needs to reduce its costs
The axe is now falling on people whose talents have been praised only months earlier.