From Longman Dictionary of Contemporary English
vinegar
vin‧e‧gar
/
ˈvɪnɪɡə
$

-ər
/
●●○
noun
[

uncountable

]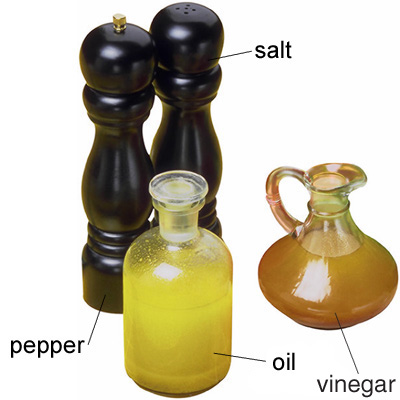 DFC
a sour-tasting liquid made from malt or wine that is used to improve the taste of food or to preserve it
vinegar
•

Then add the cranberries, salt, pepper and

vinegar

.
•

Then there is the heirloom tomato salad with baby spinach, a little white balsamic

vinegar

and feta cheese.
•

He decided on a brutal

vinegar

poultice.
•

Stir in

vinegar

and parsley just before serving.
•

Treacle sponge, £1.50, had custard but no

vinegar

.
•

The most effective deterrent, however, is that simple household substance,

vinegar

.
•

Forget the

vinegar

bottle, today there are pinches of salt. - Leicester University Press, £35.
•

To make vinaigrette, in a small bowl, whisk together

vinegar

, mustard, and basil.
Origin
vinegar
(

1200-1300

)

Old French

vinaigre

, from

vin

"

wine

"

+

aigre

"

sour

"