From Longman Dictionary of Contemporary English
turkey
tur‧key
/
ˈtɜːki
$

ˈtɜːrki
/
●●●
S3
noun
1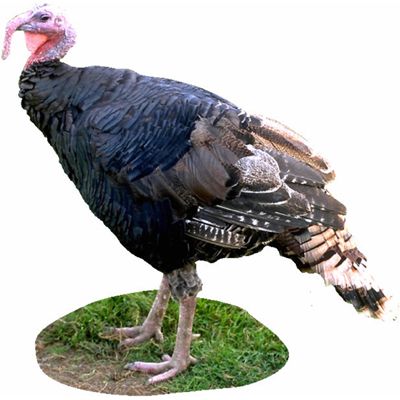 [

countable

]
HBB
a bird that looks like a large chicken and is often eaten at Christmas and at Thanksgiving
2
[

uncountable

]
DF
the meat from a turkey eaten as food
roast turkey
3
[

countable

]
American English
informal
APT
AMF
FAIL
an unsuccessful film or play
4
→
talk turkey
→
cold turkey
turkey
•

Stir some into the stuffing for

turkey

or game birds, or mix with minced meat when making pâté.
•

How many days will a frozen

turkey

take to defrost?
•

Buy a map,

turkeys

-- and get a clue.
•

Others suggest the dark meat of

turkey

.
•

Spoon

turkey

mixture on to warm tortillas; roll up.
•

Treat the family and serve it with your favourite meats and salads - don't save it just for the

turkey

!
•

A Sunday night in September may be a bit early for Christmas but the Leadmill has already got the

turkey

in.
•

Carol says I ought to get up early and help you put the

turkey

in the oven.
Turkey
Turkey
a country which is mainly in west Asia but partly in southeast Europe, between the Mediterranean and Black Seas. Population: 80,694,485 (2014). Capital: Ankara. Until the early 20th century, Turkey was the centre of the large Ottoman Empire, whose capital city was Istanbul, Turkey's largest city. It became a republic in 1923, and its first president was Kemal Ataturk, who made great changes to make Turkey a more modern country. Turkey is a member of NATO and has asked to become a member of the EU.
Origin
turkey
(

1500-1600

)

Turkey

; because the bird looked like the guinea fowl, which was brought into Europe through Turkey