From Longman Dictionary of Contemporary English
spider
spi‧der
/
ˈspaɪdə
$

-ər
/
●●●
S3
noun
[

countable

]
1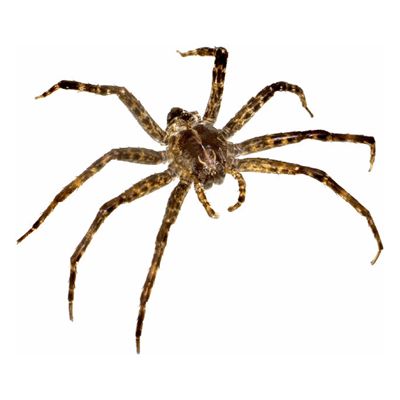 HBI
a small creature with eight legs, which catches insects using a fine network of sticky threads
2
technical
a computer program that searches the Internet for the best websites with the information you want, so that you can find it quickly
SYN

crawler
,

bot
, →

crawl the Net/web
COLLOCATIONS
phrases
a spider's web
(=

the network of threads a spider makes

)
verbs
a spider spins/weaves a web
(=

makes a network of threads

)
A spider had spun a web between the bars of the gate.
a spider climbs somewhere
There's a spider climbing up your leg.
a spider crawls somewhere
A huge spider just crawled under that chair.
a spider scuttles somewhere
(=

runs quickly

)
The spider was scuttling towards the door.
a spider bites somebody
He was bitten by a tropical spider in a bunch of bananas.
spider
•

The blanched nape of a neck,

spiders

of hair breaking free of the bun, twirling on the surface.
•

Forest Goblin Shamans keep small poisonous

spiders

in their mouths.
•

Spraying with water is particularly effective for discouraging red

spider

mite, which flourishes in dry conditions.
•

Are the answers to the above questions always the same for the same

spider

?
•

Mr Popple, upon returning home alone, found the

spider

floating in the toilet-bowl.
•

Pepita had been trying to remember the events that led up to being bitten by the black widow

spider

.
•

He moved to the far end of the living room and boiled a small young

spider

plant.
Origin
spider
Old English

spithra

, from

spinnan

;

→

SPIN

1