From Longman Dictionary of Contemporary English
nectarine
nec‧ta‧rine
/
ˈnektəriːn
$

ˌnektəˈriːn
/
noun
[

countable

]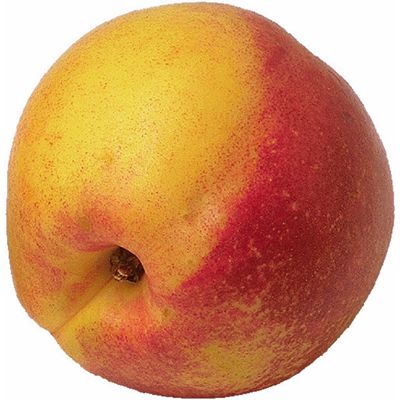 HBP
DFF
a type of fruit like a peach that has a smooth skin, or the tree that produces this fruit
nectarine
•

Peaches, apricots, plums and

nectarines

nestle amid thousands of acres of vine, originally planted for table grapes and wine.
•

He left

nectarines

half eaten; boxes of raspberries went bad.
•

Positive results prompted further trials and asparagus, green peppers, melons, onions,

nectarines

and pears were also grown.
•

Those friends in Skye grow figs, grapes, peaches,

nectarines

and sweet cherries.
•

Plums, peaches,

nectarines

St Julian A Fairly vigorous, best for large gardens or poor soils.
•

These included some of the plums,

nectarines

and apricots successfully coaxed by Miller to produce early fruit at Chelsea.
•

Place the

nectarines

, cut-side down, under a medium grill for a few minutes.
•

Mix the muesli with sugar, then spoon on to the

nectarines

and replace under the heat for a further 3 minutes.
Origin
nectarine
(

1600-1700

)
nectarine
"

like nectar

"
(

(16-19 centuries)

)