From Longman Dictionary of Contemporary English
mosquito
mos‧qui‧to
/
məˈskiːtəʊ
$

-toʊ
/
●○○
noun
(
plural

mosquitoes
or
mosquitos
)
[

countable

]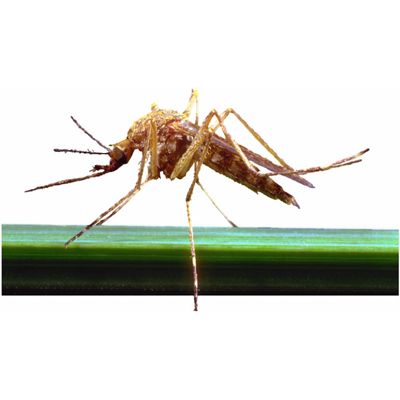 HBI
a small flying insect that sucks the blood of people and animals, sometimes spreading the disease malaria
mosquito
•

It opens up with the sound of a

mosquito

and gets louder and louder.
•

Hanson anticipates ground spraying to kill adult

mosquitoes

by midweek.
•

Even as I listened to him,

mosquitoes

, fat as houseflies, feasted on my legs.
•

We also found with a sense of great relief that there were no

mosquitoes

!
•

No breath of air stirred the Collector's

mosquito

net.
•

Then,

mosquitoes

and steamy jungle heat along a path that went up and up.
•

But my purse contained torch,

mosquito

repellent, passport and all the papers needed to subdue bureaucrats from here to Delhi.
Origin
mosquito
(

1500-1600

)

Spanish

mosca

"

fly

"

, from

Latin

musca