From Longman Dictionary of Contemporary English
giraffe
gi‧raffe
/
dʒəˈrɑːf
$

-ˈræf
/
●●○
noun
[

countable

]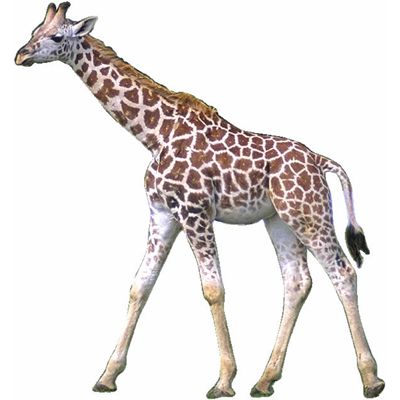 HBA
a tall African animal with a very long neck and legs and dark spots on its yellow-brown fur
giraffe
•

Suppose you are taking a shot of something tall such as a

giraffe

.
•

Billy was a

giraffe

, too.
•

Because their brain is ten feet higher than their heart,

giraffes

have the highest blood pressure of any mammal.
•

The Kalahari Bushmen devote most of their time to hunting

giraffes

, rather ineffectually; the women provide most of the food.
•

Tethered by a foot, their sole

giraffe

manipulates its jib like an Anglepoise, awkwardly precise.
•

He felt, it might be, as some

giraffe

fettered in a too-low cage.
•

Thee buses were photographed with a few surprised

giraffes

looking in the windows.
•

The

giraffes

were following gravel paths, were pausing to munch sugar pears from treetops.
Origin
giraffe
(

1500-1600

)

Italian

giraffa

, from

Arabic

zirafah