From Longman Dictionary of Contemporary English
crockery
crock‧e‧ry
/
ˈkrɒkəri
$

ˈkrɑː-
/
noun
[

uncountable

]
British English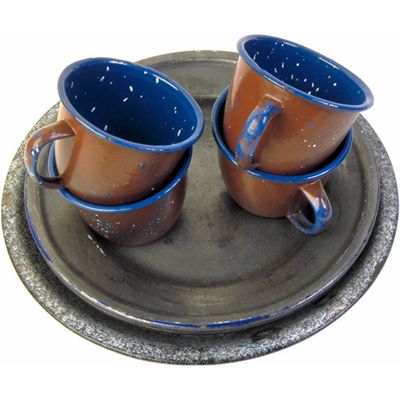 DFU
cups, dishes, plates etc
→

cutlery
a stack of dirty crockery
crockery
•

The conventional image of a ceramic is of a hard brittle material used to make items such as

crockery

and tiles.
•

Cups,

crockery

, cutlery and glasses can all be washed in hot soapy water in the usual way.
•

No two pieces of our everyday

crockery

match.
•

Much of the china clay went to the Potteries of Staffordshire to be made into

crockery

- cups, saucers and plates.
•

The scattered fragments of

crockery

and the aroma of the wasted nectar marked the melancholy wreck of our Christmas cheer.
•

Not a blanket, a pillow, a piece of cutlery or

crockery

remained.
•

As he spoke, the sideboard barring the entrance toppled over in a heap of shattered

crockery

and wood.
•

When they moved our Mrs R. would only let them take a bed and some

crockery

.
Origin
crockery
(

1700-1800

)

crocker

"

maker of clay pots

"

(

(14-18 centuries)

)

, from

crock