From Longman Dictionary of Contemporary English
candle
can‧dle
/
ˈkændl
/
●●○
S3
noun
[

countable

]
1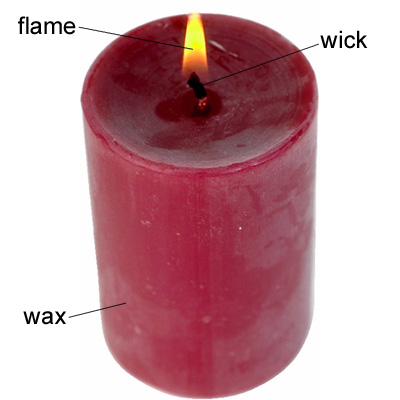 D
a stick of wax with a string through the middle, which you burn to give light
2
→
can't hold a candle to somebody/something
→
burn the candle at both ends
at

burn
1
(

19

)
COLLOCATIONS
verbs
light a candle
She lit a candle in the church.
blow out a candle
Can you blow out all the candles on your birthday cake?
a candle burns
(=

is giving out light

)
The house was dark except for one candle burning in a window.
a candle flickers
(=

the flame moves in an unsteady way

)
As the door opened, the candles flickered unsteadily.
a candle goes out
A sudden draught made the candles go out.
adjectives
a lighted candle
A procession moved through the village carrying lighted candles.
a flickering candle
(=

with the flame moving unsteadily

)
The church was full of flickering white candles.
candle + NOUN
a candle flame
The candle flame flickered.
candle
•

There were a new tablecloth and

candles

on the table.
•

Citronella

candles

are a must at an outdoor do.
•

People drive from all over the region to buy their furniture,

candles

, quilts, glassware and so on.
•

Shoes, clothing, leather goods,

candles

and kitchen utensils are all produced.
•

We carefully watched the flame of the hour

candle

eating away the wax from ring to ring.
•

Ivy,

candles

and fruit arranged in a wire basket make a sumptuous centrepiece.
•

The windows had been opened wide and a small breeze fluttered the

candles

.
•

Make a wish, take a deep breath, blow out the flames and chow down on the

candles

.
Origin
candle
(

600-700

)

Latin

candela

, from

candere

;

→

CANDID