From Longman Dictionary of Contemporary English
butterfly
but‧ter‧fly
/
ˈbʌtəflaɪ
$

-ər-
/
●●○
noun
(
plural

butterflies
)
[

countable

]
1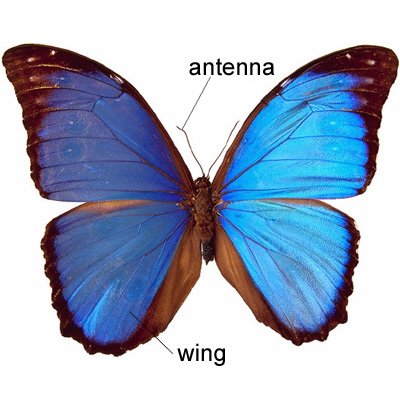 HBI
a type of insect that has large wings, often with beautiful colours
2
→
have/get butterflies (in your stomach)
3
→
the butterfly
4
CHANGE YOUR MIND
someone who usually moves on quickly from one activity or person to the next
Gwen's a real

social butterfly

.
butterfly
•

These people can take many blows, but I, I am fragile as a

butterfly

.
•

The snails had vanished, but now some one seemingly had traced a picture of a

butterfly

in the dirt.
•

A

butterfly

wing has a dynamically changing structure that allows myriad responses to its own induced wing vortices.
•

I feel a kind of reverence in late summer when I visit that abandoned

butterfly

garden.
•

He collected rocks and

butterflies

and devoured accounts of recent scientific expeditions.
•

At about the seventeenth day the first

butterflies

will probably start to emerge.
•

For the patterned

butterflies

I used a small part of the leaf design.
•

Gwen's a real social

butterfly

.
•

I shut my eyes and tried to see the

butterfly

.
Origin
butterfly
Old English

buterfleoge

, from

butere

(

→

BUTTER

1

) +

fleoge

"

fly

"

; perhaps because many types of butterfly are yellow, or because people believed that butterflies steal milk and butter