From Longman Dictionary of Contemporary English
toothpaste
tooth‧paste
/
ˈtuːθpeɪst
/
●●●
S3
noun
[

uncountable

]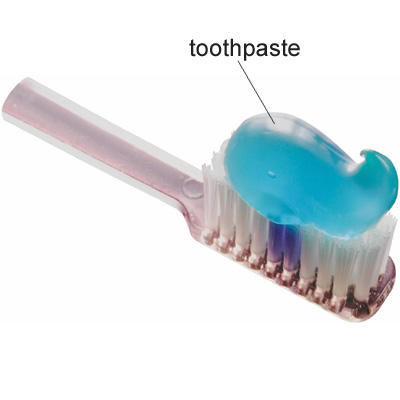 DCB
a thick substance that you use to clean your teeth
toothpaste
•

Too much of a hassle to use both

toothpaste

and mouthwash?
•

We have got more

toothpaste

on the market and more misery in our courts than at any time in our existence.
•

There is no

toothpaste

in these tubes.
•

Nurse smelt of

toothpaste

and disinfectant, and crackled when she moved because her clothes were so stiffly starched.
•

The answer was that he was missing a tube of

toothpaste

.
•

You gave him ten tubes of

toothpaste

.
•

He needed some

toothpaste

so he went into the chemists.
•

He was often unable to make simple, rapid decisions about what

toothpaste

to buy or what to wear.