From Longman Dictionary of Contemporary English
stopper
stop‧per
/
ˈstɒpə
$

ˈstɑːpər
/
noun
[

countable

]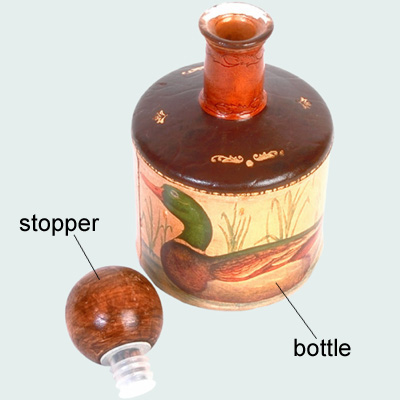 D
the thing that you put in the top part of a bottle to close it
→

cork
—
stopper
verb
[

transitive

]
a small, stoppered jar
stopper
•

After lots of very interesting figures at the first big

stopper

of the Olympic Eiskanal, the winner was Boris Retzlaf.
•

From Oddbins, Littlewoods and Budgen, it comes with an extra

stopper

to reseal the bottle.
•

Then he removed the carboy, corked it with a glass

stopper

, and dropped it over the side of the boat.
•

Others had ornate pewter

stoppers

or were nestled in velvet-lined boxes.
•

If you want a taste of Torme as the consummate show

stopper

, Rhino offers you his classic, 15-minute Gershwin medley.
•

The

stopper

was missing and the brandy had trickled out to soak into the sisal matting which covered the floor.
•

She tried to

stopper

her nostrils against it and control any signs of shuddering.