From Longman Dictionary of Contemporary English
stained glass
ˌstained ˈglass
noun
[

uncountable

]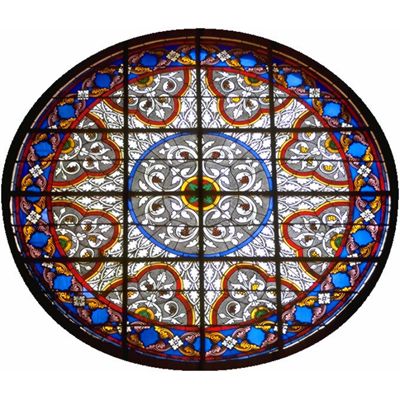 TIG
glass of different colours, used for making pictures and patterns in windows, especially in a church
stained glass windows
stained glass
•

Maxwell spent £350,000 on the house, installing a

stained glass

window and glitzy Fifties Neptune statue in the hall.
•

It has a three-story reception hall and turn-of-the century

stained glass

windows.
•

Soft lights glowed on the mountains as if reflected from

stained glass

.
•

Rays of afternoon light poured through the

stained glass

windows, drenching the sanctuary with splashes of color.
•

The

stained glass

is divine, the carpets rich and colorful and the tapestries simply beautiful.
•

The

stained glass

windows in the church were all placed as memorials.
•

Sunlight streams through

stained glass

on to polished mahogany walls, reminders of the Episcopal church this child-care center once was.