From Longman Dictionary of Contemporary English
spinach
spin‧ach
/
ˈspɪnɪdʒ, -ɪtʃ
/
noun
[

uncountable

]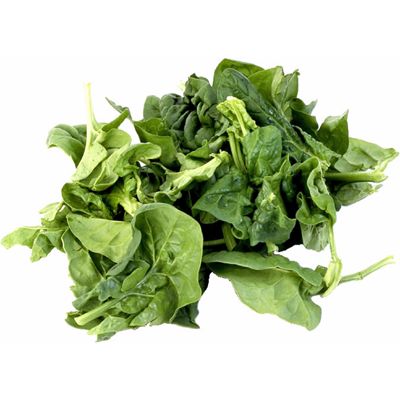 HBP
DF
a vegetable with large dark green leaves
spinach
•

Seeds you can start indoors now include lettuce and

spinach

.
•

Then there is the heirloom tomato salad with baby

spinach

, a little white balsamic vinegar and feta cheese.
•

Try tuna, sardines or anchovies, or chopped

spinach

with plenty of garlic and black pepper.
•

An evening meal began promisingly with a bruschetta topped with chopped

spinach

, sun-dried tomatoes, pesto and feta cheese.
•

Every other layer is

spinach

noodles, and the secret ingredient is the fifth cheese.
•

So expect to feel like Popeye on

spinach

.
•

Above: fillet of turbot on

spinach

with chive and spiced sauces.
•

She no longer linked the flight with her own act of disobedience over the

spinach

, ably abetted by Aunt Tossie.
Origin
spinach
(

1300-1400

)

Old French

espinache

, from

Arabic

isfanakh

, from

Persian