From Longman Dictionary of Contemporary English
saucepan
sauce‧pan
/
ˈsɔːspən
$

ˈsɒːspæn
/
●●○
noun
[

countable

]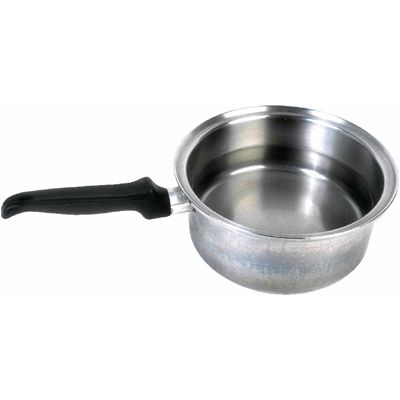 DFU
a deep round metal container with a handle that is used for cooking
SYN

pan
Heat the oil and garlic in a large saucepan.
saucepan
•

Bring a

saucepan

of water to a boil and add peel.
•

Next day put them in a

saucepan

with the same water, plus a half teaspoon of bicarbonate of soda.
•

Heat the oil in a heavy

saucepan

.
•

In a large

saucepan

, heat half of the oil and saute onion until translucent.
•

To make lentils, in a medium-sized

saucepan

, heat oil and saute carrot, onion, and celery until lightly colored.
•

Place in small

saucepan

and heat on medium just until the sugar dissolves.
•

I ran to and fro from the kitchen for some time with

saucepans

and kettles of boiling water.