From Longman Dictionary of Contemporary English
rotor
ro‧tor
/
ˈrəʊtə
$

ˈroʊtər
/
noun
[

countable

]
technical
1
TEM
a part of a machine that turns around on a central point
2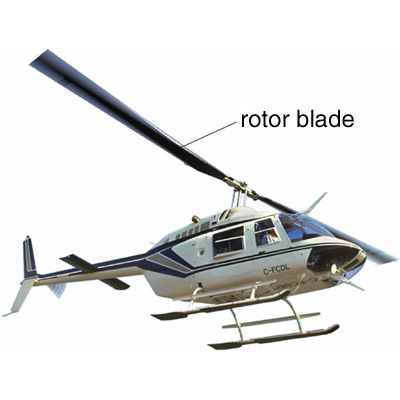 (
also
rotor blade
)
TTA
the long flat part that turns around and around on top of a helicopter
rotor
•

The experimental results that encouraged the financiers to support a

rotor

ship were truly spectacular.
•

This may require new materials - the experimental

rotor

is built of wood, which Wortmann says has the best damping.
•

Dark mosquito shadows across the hilltops,

rotor

blades beating the air, stirring the ground, pressing down.
•

The swirling wind from my

rotors

whipped the fatigues of interested watchers to a blur.
•

The turbine whined familiarly and the

rotors

blurred above the cabin.
•

I skidded ten feet when I hit, and the

rotors

quietly slowed and stopped.
•

When I flared, the

rotor

wash stirred up the dust and everything vanished.
•

The young man was killed after becoming entangled in the unguarded

rotors

of a power harrow while attempting to remove a stone.
Origin
rotor
(

1800-1900

)

rotator

"

something that rotates

"

(

(17-21 centuries)

)

, from

Latin

, from

rotare

;

→

ROTATE