From Longman Dictionary of Contemporary English
pomegranate
pom‧e‧gran‧ate
/
ˈpɒməɡrænət
$

ˈpɑːmə-
/
noun
[

countable

]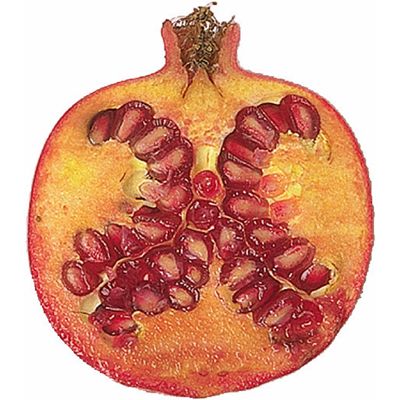 DFF
a round fruit that has a lot of small juicy red seeds that you can eat and a thick reddish skin
pomegranate
•

Vines and almonds, lemons and oranges,

pomegranates

and sugar.
•

One day I bought six

pomegranates

on the way home - imagine it, six!
•

Faster now, the tiles sharp-edged under her heels, Chesarynth turned outwards between the

pomegranate

trees, the larkspur.
•

Myth also links the

pomegranate

to Dionysos.
•

The balcony is frail and higher than you thought but looks down on the unchanged saffron flowers of the

pomegranate

tree.
Origin
pomegranate
(

1300-1400

)
Old French
pome grenate
"

seedy apple

"