From Longman Dictionary of Contemporary English
plinth
plinth
/
plɪnθ
/
noun
[

countable

]
especially British English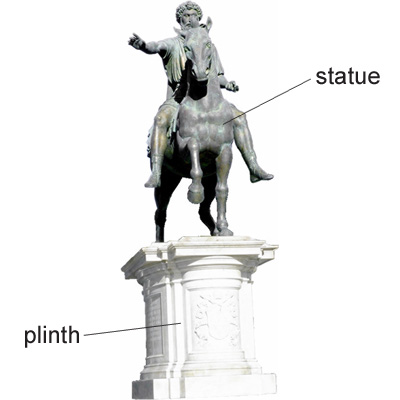 AA
a square block, usually made of stone, that is used as the base for a pillar or statue
plinth
•

At the same time optional accessories, such as cornices, light pelmets and

plinths

, could also be changed.
•

When he has good balance standing up, the forward

plinth

may be lowered, and a gymnastic ball placed on it.
•

The Colonel's brooding over his notebooks, and lying under his stone, and standing on his

plinth

on Montefiore Hill.
•

The three central heating pump chambers are equally well-disguised by building over each a raised

plinth

, topped by a removable slab.
•

We walked out for the victory ceremony and stood behind the

plinth

.
•

Peter is shown on the

plinth

, being taken by his father to be educated by the monks at Bridlington.
•

We were surprised to find that the

plinths

used for exercise and as tables during the day are their beds at night!
•

The residential children sleep and eat in these areas, using the

plinths

as beds.
Origin
plinth
(

1500-1600

)

Latin

plinthus

, from

Greek

plinthos