From Longman Dictionary of Contemporary English
loudspeaker
loud‧speak‧er
/
ˌlaʊdˈspiːkə, ˈlaʊdˌspiːkə
$

-ər
/
noun
[

countable

]
1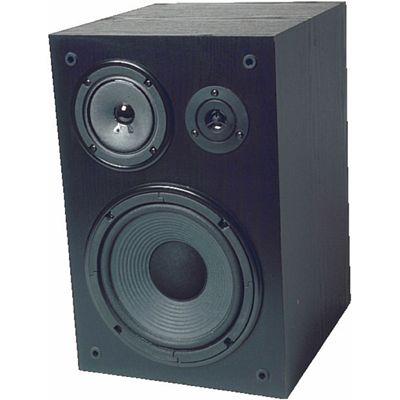 TCB
TCR
a piece of equipment used to make sounds louder
from/over/through a loudspeaker
The voice over the loudspeaker

(=

using the loudspeaker

)

said the flight was delayed.
2
TC
a speaker(3)
loudspeaker
•

Because treble frequencies are directional and bass frequencies are not, standing in front of a

loudspeaker

cabinet always gives a brighter sound.
•

So microphones and

loudspeakers

were installed.
•

Later that evening, however,

loudspeaker

vans cruised the town, announcing the election for Friday, the next day.
•

Similarly, there are few restrictions on temporary use of

loudspeakers

, such as when messages are blasted intermittently from mobile vans.
•

Broadcasting via a system of street

loudspeakers

the radio is on the air for three hours each Sunday.
•

But there are differences, the most obvious being the

loudspeakers

.
•

Only if the

loudspeaker

starts singing a new song will her soliciting start afresh.
•

Mimicking candidates who campaigned with

loudspeakers

, I went outside every day and gathered neighborhood children and made speeches.
from/over/through a loudspeaker
•

It was then Gedanken realized that all along she had been hearing the voices of the beetles

over a loudspeaker

.
•

Devotional songs blared

from a loudspeaker

attached to a tree.
•

A novelty for the home crowd at reserve matches in 1924-25 was music from gramophone records broadcast

through a loudspeaker

.
•

His voice could be heard

over a loudspeaker

.
•

Everywhere you go to shop they have Christmas muzak playing

from loudspeakers

secreted about the premises.
•

Those who arrived late had to listen to the Archbishop's address relayed

over loudspeakers

placed around the market square.
•

That is, deafening row

from loudspeakers

in cars with their windows open.
•

A typical campaign consists of politicians repeatedly shouting their name, party affiliation, and other slogans

through loudspeakers

.