From Longman Dictionary of Contemporary English
intestine
in‧tes‧tine
/
ɪnˈtestɪn
/
noun
[

countable

]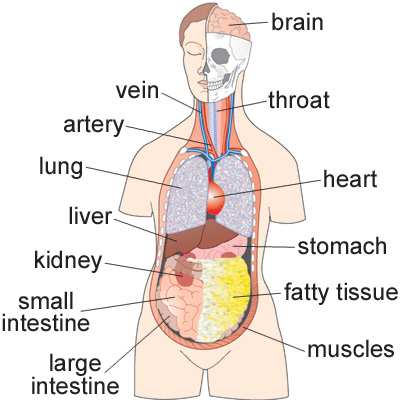 HB
the long tube in your body through which food passes after it leaves your stomach
SYN

gut
—
intestinal
adjective
→
large intestine
,
small intestine
intestine
•

The village paths soon became covered with a mass of bodies, brains, blood and

intestines

.
•

Montgomery etal isolated cells from 18 day fetal rat

intestine

by trypsin dissociation.
•

In agreement with our findings, they showed that the rat

intestine

secreted fluid on day 5 after parasite administration.
•

Each day, 7-10 litres of water enter the small

intestine

.
•

The degree of amyloid deposition, however, was greatest in the small

intestine

.
•

So far two of 10 patients with a diagnosis of Crohn's disease have already developed recurrence in the small

intestine

.
•

As the wall of the small

intestine

comes into view, you notice that it looks furry.
•

The ultrastructure of the

intestine

was examined in seven patients.
Origin
intestine
(

1400-1500

)

French

intestin

, from

Latin

intestinum

, from

intus

"

inside

"