From Longman Dictionary of Contemporary English
hanger
hang‧er
/
ˈhæŋə
$

-ər
/
(
also
coat hanger
,

clothes hanger
)
noun
[

countable

]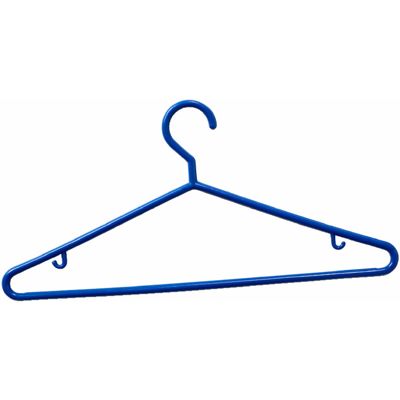 DCC
a curved piece of wood, plastic, or metal with a hook on top, used for hanging clothes on
She took off her jacket and hung it on a hanger.
hanger
•

From a

hanger

on the hatstand hangs the jacket of a pale grey summer suit.
•

The man was carrying a fur-collared suede coat on a

hanger

, draped with a dry cleaners' plastic bag.
•

Shirts and sheets they hung from the ceiling, draping them on lines and

hangers

.
•

She considered, trying to ignore the jangling

hangers

, with their cold, quick touch.
•

One medium-sized baby-blue Samsonite suitcase, containing all my clothes, except the few on

hangers

.
•

Two positions are catered for on the

hanger

, giving still more options of flow direction.
•

Our offer pack contains three of these

hangers

.
•

No laundry until the bed is made, or no new clothes until

hangers

are used.