From Longman Dictionary of Contemporary English
elephant
el‧e‧phant
/
ˈeləfənt
/
●●●
W3
noun
[

countable

]
1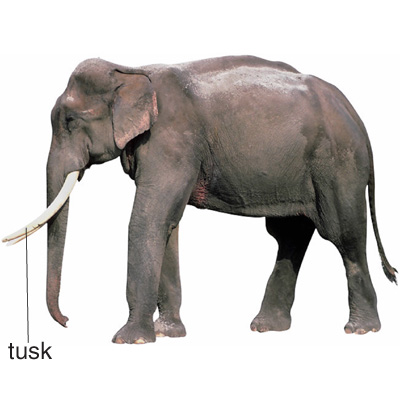 HBA
a very large grey animal with four legs, two tusks (=long curved teeth) and a trunk (=long nose) that it can use to pick things up
2
→
the elephant in the (living) room
→
white elephant
elephant
•

He rode on an

elephant

and on the Ferris wheel, taking only Amelia with him.
•

Each

elephant

is caparisoned in glittering gold, red, silver or blue cloth, studded with brilliants and lit with lamps.
•

Archaeologists divide the early inhabitants into

elephant

hunters and bison hunters.
•

The explosions started as soon as the last

elephant

had shuffled out of sight.
•

It looked like a place where the

elephants

came to die.
•

These countries are able to practise open trading because their

elephant

herds are now big enough to demand regular culling.
•

His agents within the Imperial army managed to assassinate three of Dara's generals as they sat exposed on their

elephants

.
Origin
elephant
(

1200-1300

)

Old French

oliphant

, from

Greek

elephas

"

elephant, ivory

"