From Longman Dictionary of Contemporary English
doughnut
dough‧nut
/
ˈdəʊnʌt
$

ˈdoʊ-
/
noun
[

countable

]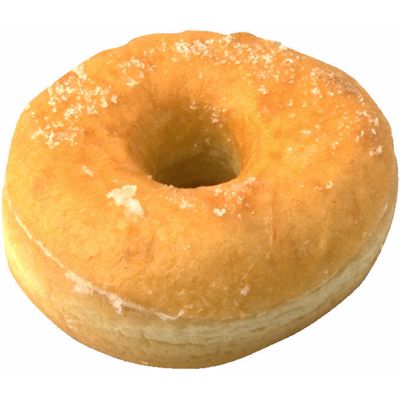 DFF
a small round cake, often in the form of a ring
doughnut
•

Why, Jo wondered, did she have to have a nose like a cross between a

doughnut

and a ski-jump?
•

A baker is asking his customers to choose between

doughnuts

made with blue, red, yellow and green icing.
•

Graceland is there, already, centerpiece of 10 dozen

doughnut

shops and roadside flophouses.
•

Their main source of income came from

doughnuts

.
•

He bought her

doughnuts

and cans of Carlsberg Special, and they picnicked on the pavement and he sang to her.
•

I took out another sugared

doughnut

and began devouring it.
•

The new structures have rejoiced in wonderfully evocative names like the beehive, the bell, the

doughnut

and the bicycle wheel.
•

A conveyor belt lifts the

doughnuts

out of the grease for a slow ride through a white curtain of falling glaze.