From Longman Dictionary of Contemporary English
dome
dome
/
dəʊm
$

doʊm
/
●●○
noun
[

countable

]
1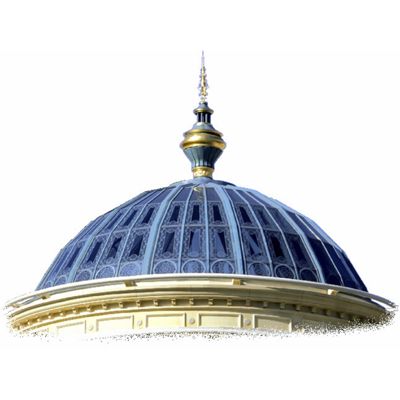 AA
TB
a round roof on a building
2
CF
a shape or building like a ball cut in half
dome
•

Operating from a

dome

on Kitt Peak, Arizona, the Spacewatch team members have achieved numerous firsts.
•

The other

domes

cover the crossing, choir and transepts.
•

As in, if the city of Miami and Dade County build him a new stadium with a retractable

dome

.
•

Small

domes

composed of viscous lava may form within craters.
•

First, the meteorites crossed the

dome

traveling at an angle of only twenty-seven degrees to the horizon.
•

Higher up the

dome

became steeper, but by now I'd learned to trust the rock a bit more.
•

the

dome

of his bald head
•

There were several lesser towers, the corner ones with

domes

.
Origin
dome
(

1600-1700

)

French

dôme

"

dome, cathedral

"

, from

Latin

domus

"

house

"