From Longman Dictionary of Contemporary English
dishwasher
dish‧wash‧er
/
ˈdɪʃˌwɒʃə
$

-ˌwɒːʃər, -ˌwɑː-
/
●●○
noun
[

countable

]
1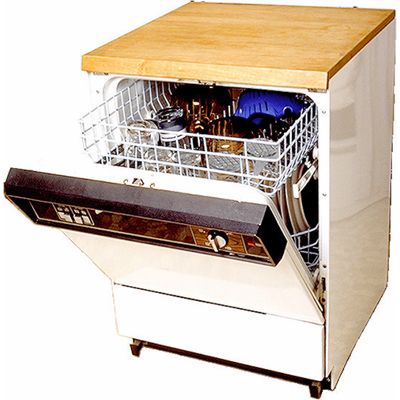 DFU
a machine that washes dishes
2
especially American English
someone whose job is to wash dirty dishes, plates etc, especially in a restaurant
dishwasher
•

Better yet, send the utensils through a full

dishwasher

cycle.
•

Simply remove the unit door and the

dishwasher

slips into place.
•

Clouds of steam from the

dishwasher

filled the room when the going got heavy.
•

They were the only dishes there, and I thought about putting them in the

dishwasher

but decided that would be wrong.
•

They were standing in the kitchen loading the

dishwasher

and putting the salads in the fridge when a picture caught her eye.
•

On the contrary - it uses up the time we've saved with the

dishwasher

and the vacuum cleaner.
•

Could they go without their

dishwashers

and washing machines?