From Longman Dictionary of Contemporary English
chandelier
chan‧de‧lier
/
ˌʃændəˈlɪə
$

-ˈlɪr
/
noun
[

countable

]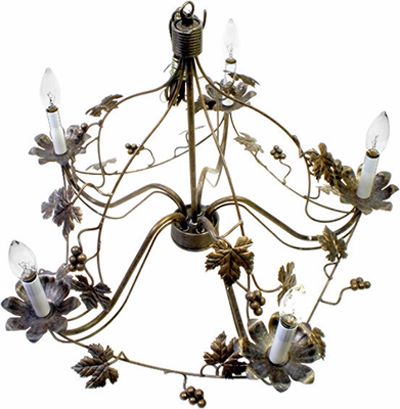 DHF
a large round frame for holding candles or lights that hangs from the ceiling and is decorated with small pieces of glass
chandelier
•

All the main rooms are hung with Bohemian

chandeliers

.
•

Sheila and I were responsible for polishing the brass and crystal

chandelier

that hung over the dining-room table.
•

This was actually smaller than the dressing room but was richly furnished and lit by a large crystal

chandelier

.
•

The ballroom was to the left, and, in 1902, its

chandeliers

threw glistening blurs on a flawless parquet floor.
•

There was a party in the ballroom: sparkling

chandeliers

, string quartet.
•

As she stood on the crimson carpet, hesitating, the

chandeliers

suddenly flashed on, dispelling the gloom.
•

The hotel was most concerned about loose tiles and the stability of the

chandeliers

, Pilla said.
•

Rekindled and re-leased with a shove, the

chandelier

began to swing again, describing a larger arc this time.
Origin
chandelier
(

1700-1800

)

French

"

candlestick

"

, from

Latin

candelabrum

;

→

CANDELABRA