From Longman Dictionary of Contemporary English
begonia
be‧go‧ni‧a
/
bɪˈɡəʊniə
$

-ˈɡoʊ-
/
noun
[

countable

]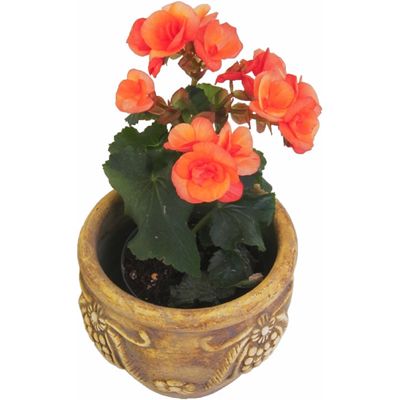 HBP
a plant with yellow, pink, red, or white flowers
begonia
•

Does it look like a

begonia

?
•

Topical tip Check any impatiens and

begonias

that you intend to over-winter indoors.
•

That first December 1904 issue featured

begonias

, as does the January 1996 issue.
•

However well you treat them, after two to three years these foliage

begonias

lose their compact appearance and look straggly.
•

A waterfall of

begonias

, of every colour known to the plant breeders of the 1960s, filled the conservatory.
•

I recently planted beds with salvia,

begonias

, petunias and geraniums.
•

A visit to any of their shows is a delight and you can see

begonias

at their best.
•

I place my three long-stemmed, red roses beside the

begonias

.
Origin
begonia
(

1700-1800

)

Modern Latin

from Michel

Bégon

(1638-1710), French governor of Santo Domingo, who discovered the plant