From Longman Dictionary of Contemporary English
baize
baize
/
beɪz
/
noun
[

uncountable

]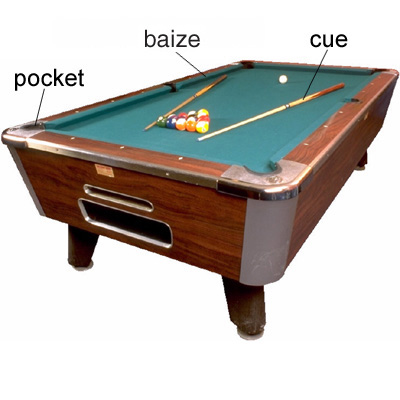 DG
TIM
thick cloth that is usually green, and is used to cover tables on which games such as pool are played
baize
•

Nor were the crowd to be denied, for they tore the black

baize

cloth to shreds in their scramble for souvenirs.
•

At the same time, away from the competitive

baize

, she was a loyal and warm-hearted personality.
•

They returned with a huge roll of green

baize

which was then gently placed on top of the groaning air conditioner.
•

Inferior to these, and lodged behind the green

baize

door, are the upper servants.
•

Who is the people's choice on the green

baize

?
•

He washed up and tidied up, and put the

baize

cover back on the table.
•

Opposite her were two steps up to the

baize

door separating the kitchen quarters from the house.
•

It was lined with

baize

, on which reposed row upon row of miniatures.
Origin
baize
(

1500-1600

)

French

baies

, plural of

baie

"

baize

"

, from

bai

;

→

BAY

3