From Longman Dictionary of Contemporary English
backgammon
back‧gam‧mon
/
ˈbækɡæmən
/
noun
[

uncountable

]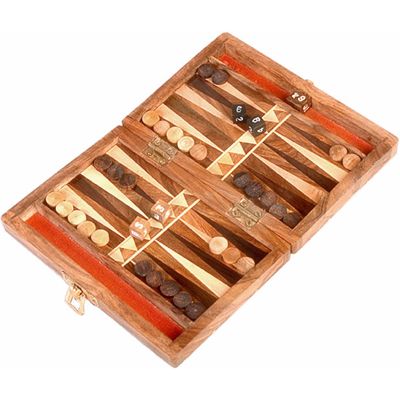 DGB
a game for two players, using flat round pieces and dice on a special board
backgammon
•

If it rained they lolled in the library, playing cards and

backgammon

.
•

One of the most popular sites is the game room, where visitors can play chess, checkers and

backgammon

with others.
•

The inlaid chequerboard top of the coffee table houses all kind of games, including

backgammon

, chess and Scrabble.
•

For the rest of the evening they concentrated on

backgammon

, pushing dimes back and forth across the kitchen table.
•

They had a light supper, played

backgammon

for dimes, sat listening to records in the living room.
•

The inlay depicts intricate little scenes, including a group playing

backgammon

and another group with a tray of drinks.
•

Peter and Nick were sitting on the sofa sharing a bottle of whisky with Sara's

backgammon

board between them.
Origin
backgammon
(

1600-1700

)

Probably from

→

BACK

2

+

gamen

, an early form of

game