From Longman Dictionary of Contemporary English
Alsatian
Al‧sa‧tian
/
ælˈseɪʃ

ə

n
/
noun
[

countable

]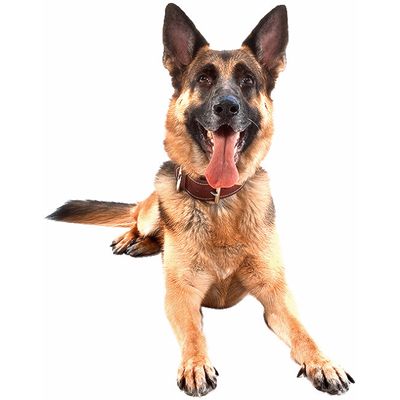 HBA
DHP
British English
a large dog, often used by the police or to guard places
SYN

German Shepherd
Alsatian
•

The best-class rubbish is found at the gates of high-walled mansions, their privacy protected by barking

Alsatians

and uniformed guards.
•

Set his

Alsatians

on me ... He won't.
•

A guard with a huge

Alsatian

stood near by.
•

Barbed wire zigzagged in front of the small houses and large

Alsatians

snarled at strangers from behind steel fences.
•

As we exchanged information, the

Alsatian

sat at our feet, licking the salt out of an empty crisp packet.
•

Kodiak the

Alsatian

barked at me for a few minutes, and gave up in resignation.
•

Apparently some of them nervous wrecks.

Alsatians

and everything.